Athlete Feature: Joe & Mollie Bozek
---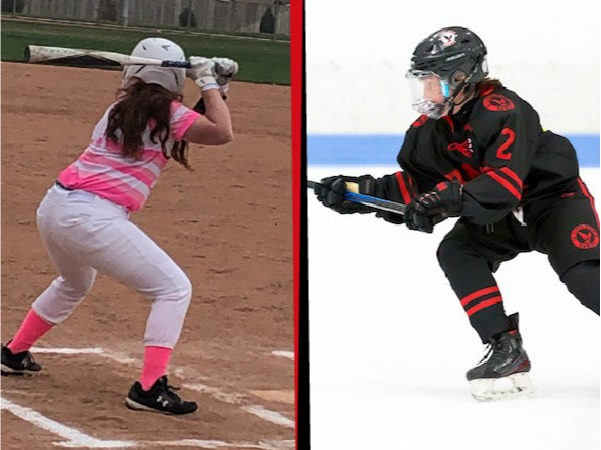 It's March 2021 and we're excited to announce our new Athletes of the Month -- there's two this month! They're 11 and 12 years old, siblings, and were nominated by their coach, Joe.
Here's what we've gathered from our interview with Joe and Mollie:
 
Their Athletic Journeys 
Mollie is 12 years old and currently plays softball for 12U Prodigy. Softball is the primary sport she plays where she is a catcher and utility player. Outside of softball, Mollie is proud of her latest achievement where she completed her 2nd-degree blackbelt by age 11! 

Joe is 11 years old (today! Happy Birthday, Joe!), and plays hockey for the Littleton Hawks. This is his second year on the Squirt AA team.
Their Greatest Challenges
Mollie's biggest challenges have been adapting to new teams and learning to play at higher levels. She started playing softball later than most players -- she had just turned 10 years old. Many of her teammates had already been playing softball for several more years than her, so she was challenged to learn more in a shorter period of time to meet her teammates on the level they were expected to be playing at.

For Joe, his greatest challenge has been developing arm and upper body strength. In hockey, he wants to be continually improving his shot speed similar to how he always strived to improve his throwing when he played baseball.
When Team Speed Joined the Journey
Mollie and Joe both began training with Sterling's Team Speed in 2020 when the COVID-19 pandemic hit since they weren't getting enough exercise in their regular schedule anymore. Even though many sports, practices, other facilities, and gyms were shut down for a large part of 2020, Mollie wanted to continue developing her softball performance to get ready for the next playing season.

Determination is a driving value for Mollie and Joe in both of their athletic endeavors. Both strive to be the best athlete and teammate they can be. In hockey, Joe feels lucky to have had great coaches and teammates. He's played on some great teams and has made good friends. He strives to continue improving each year so he can play for the top team.
Goals
When Mollie started training with Coach Joe, they outlined her goals of increasing speed, agility, flexibility, and strength, while Joe wanted to improve his leg and upper body strength. Both Mollie and Joe have been training with Sterling's Team Speed for 7 months now and showed increases in all areas during their 6-week testing sessions - bravo!
What Mollie and Joe Want to Say to Other Athletes with Big Dreams
We asked Mollie and Joe individually what they'd like to say to other athletes with big goals or dreams. We'll leave you with what they said below:
Joe: "You always have to work hard and have the desire to always get better."
Mollie: "Put the hard work in and the results will come."

We couldn't have said it better.
If you're interested in learning more about increasing your sports performance, inquire here for more information on how we can help you achieve your goals, too.
Go Back